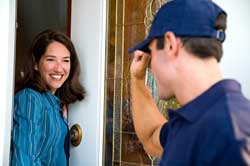 Everyone has unique expectations of what good customer service entails. Maybe your parents own a business or your employer gives outstanding customer service. In Japan I found customer service beyond anything I've experienced elsewhere, stemming from a culture that works hard to never cause someone to lose face (read more).
At the same time, most homeowners have heard a horror story about contractors, the opposite of great customer service. The reality is most people deliver customer service based on their personal experience and the role models in their lives.  Your challenge is finding people and companies that offer the level of customer service you want.
What Are Your Customer Service Priorities
When do you think about customer service? If you're like me, you're more likely to take notice when you get especially poor service and then, what do you do about it? Most people simply don't go back (90% of people do this) but there are lots of ways you could make a difference and help businesses improve their service. Give people feedback in person, via email or a written letter and be careful about your tone of voice.
Pick your priorities and when you're looking for a new contractor, lawyer or doctor, make sure you evaluate prospects based on their technical skills and your customer service priorities. Word of mouth referrals are great but a neighbor down the street who doesn't work might not need a plumber who will work on Saturday but that's at the top of your list.  What are your priorities?
Phone coverage 7×24 as some people want to talk to a live person & won't leave a message.
Phone calls returned and emails answered within a reasonable period of time. You may need to verify your definition of response time is consistent with your providers.
Professionals who commit to a schedule and arrive on time, i.e. not the phone company that will get there after 1pm.
Flexibility that's important to you. This might be home services on Saturday, 7×24 emergency service or in my case, I like email communication so I can do my personal follow ups in the evening versus having to play phone tag.
Product and service guarantees. If this is important to you, follow the rules for registering new products and keep your paperwork. Make sure you understand who pays shipping and installation costs when you need to replace a failing product.
You often need to stand up for what has been committed. The only product I always buy a service contract for is computer equipment. When Dell customer service, after 30 minutes trouble shooting on the phone, said they'd mail me the correct microcode for my laptop, I told them no! I told them my service contract covered on-site repairs and 2 days later, the repairman showed up.
Good Customer Service, from a Contractor's Perspective
It's true you get what you pay for. Using my handyman business as an example, let me share our commitment to customer service. At times it's frustrating when people want the service but don't want to pay for it, i.e. my answering service costs roughly $150 per month. It's taken time to work out the scripts with them so I only get the real emergency calls, i.e. a toothbrush in the toilet when there's a second bathroom in the house is not an emergency!
Part of our customer service is arriving on time so we have a routine where our technicians check in each morning. We know before the customer if we're not going to arrive on time and we'll alert you. When I first opened my business, I would call and say we'd be there by 8:10 and then oops, have to call back due to traffic. We now provide a 30 minute arrival window.
Here are some other ways we focus on delivering not just good handyman services but overall customer service homeowners love. In the first hour, handled the following:
Scott checked in at 6:30am with sore muscles from lifting cinder block the day before. He couldn't find the customer's street and we discovered he was in the wrong town (bug in our scheduling software). When we couldn't figure out the right location, we called the customer who said "this happens all the time." On the same call, we answered some additional questions for Jennifer regarding the storm door we were measuring and ordering for her.
Rick checked in shortly after Scott. I reminded him to stop by National Car Rental at Manchester Airport, with color book so they could select the color for their new vinyl floors and called the airport to confirm the manager would be there. Rick reminded me he was early so he could complete several additional items added by the customer yesterday.
Called Dana to ask him to pick up the condo vanity (at the office) on his way to the jobsite. Our decorator, Jennifer Myers Interiors, dropped it off yesterday, we took photos and emailed them to the client for approval … it was a go. On the same call, reviewed the parts list & pricing for the master shower hardware so I could complete the order, and discussed the ship schedule versus work schedule.
While the Handymen are Working, The Office is Busy Supporting Them … and You!
Order materials: Harvey storm door for morning Brentwood customer; shower materials for master bathroom, Newburyport MA.
Schedule emergency job in Rochester, NH … for this afternoon.
Send thank you with apology to yesterday's customer in Londonderry, NH as we're supposed to get all materials in one (1) shopping trip. Committed an insurance estimate for Dorothy, for water damage to around three (3) exterior doors.
Locate/schedule debris pickup & gravel delivery to wrap up Scott's bulkhead stairs.
Schedule refinishing of hardwood floors for Newburyport, MA condo.
… plus I'm covering the phones today!