A home is so much more than four walls, the roof overhead or the appliances in the kitchen. We fill our houses with lots of things, from furniture to clothes and crafting supplies if that's what you love to do. Yet what's most important is how we spend time at home and how much we enjoy ourselves.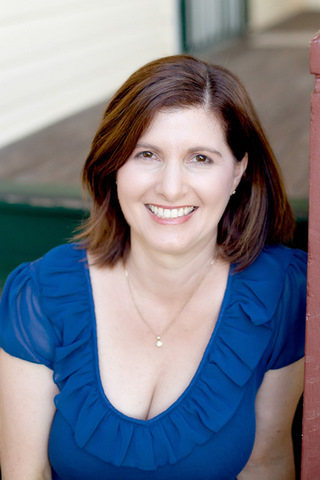 Tonya Grant, who writes the blog The Crafty Mummy, took a moment to share some of her ideas for simple DIY crafts and home improvements. These are projects anyone can tackle. It's your experience and passion about making things, building things, repairing things – all it takes to make a house into a home.
How did you get started crafting?
Many of my creative skills came from my mum. She encouraged me to learn how to stitch as a child and I can remember taking small cross stitch projects to primary school. She also taught me the basics of crochet, knitting and lots of other things. As a teenager I continued stitching. Once I married, I borrowed her old sewing machine and learned to sew.
My love of quilting and patchwork developed when my husband and I moved to a small country town in Queensland, Australia. I stopped working for a time and taught myself to patchwork from books.
By then I knew I was hooked on crafting! These days I'll try my hand at just about any craft. Quite often I learn new crafts, ones I can do with my kids.
What motivates you to make your own things?
I love the feeling of satisfaction that comes with finishing a project. In recent years, I've decided this is related to being a mother and homemaker. In my home, things are never finished for long! There is always more washing or cooking or cleaning to be done. With my craft projects, I get to finish something and enjoy the final product, whether I use it myself, gift it to a loved one or even sell it. It gives me such pleasure to create something with my hands, and I find it relaxing to create while I chat or watch TV.
Do you also do your own repairs around the house?
Sometimes. My husband works long hours, so inevitably I'm the one who has to do lots of little DIY jobs at home. I'm very adept at putting together flat packed furniture and recently have been playing with paint.
What easy projects need little crafting experience? 
There are so many things that are easy to complete in a short time. If you have an idea but aren't sure how to do something, you can go online for inspiration and help! As my kids got older, I realized we needed a family command center. This was a perfect crafting project where I saved money by creating my own solution.
Family notice boards – went on one of my kitchen walls, using simple picture frames with paper instead of photos. Now we write on them with whiteboard markers so we can dry erase them easily.
Our family calendar system for "This Week", "Next Week", and "Every Week" (see below) – was made using similar frames and paint chips. It keeps everyone in the family on the same page!
Mail sorters – were added to keep track of all the paper that comes into the house. They're decorated with washi tape – love that stuff! These are quick and easy to hang with removable hooks.
How important is organization for homeowners and especially crafters?
You wrote a blog post recently about how to organize a closet. Can you give us a couple of organizational tips? How has getting/staying organized affected your life, one way or the other?
My home would fall apart without some organization. By keeping it simple, the kids can help out which saves time because everyone understands where things belong. Then items go into their place and you don't waste time looking for them again later!
We also have super simple routines that keep us organized. For example, after school each day, the kids unpack lunch boxes, put dirty socks and shoes away and give me any notices from school. My top tips for organizing my home:
Put things away as soon as you're finished using them. It takes more work when you dump them on a surface and the pile seems to keep growing, to be taken care of … later.
Get the whole family involved in keeping the house organized. When it works, it takes the pressure off Mum!
Clean out clutter regularly, and that means get it out of the house. Give away clothes that don't fit. Give things to friends rather than stashing them in case someone might use them later.
How do you use crafting for home improvements?
Fabric is one of the easiest things to add to your home to create a fresh look. Simple cushion covers can be whipped up in an afternoon and can really change the look of your living area. My kids often ask to change things in their bedrooms, so adding some bunting or new cushions can be an easy fix.
How do you manage your family, a household, crafting and blogging?
One the hardest things about working from home is finding that balance between family and work. I consider my blog, so I make it a priority even when I'd rather do other things. I try to work when my kids are at school and keep afternoons free for when they need my attention.
I try to plan my posts in advance. With a dozen or so projects on the go at once, they provide great crafting content that will eventually get published. My top tips for crafting and blogging:
Plan your time and use a calendar – I use WordPress Editorial Calendar for blog planning and Google Calendars for family organization so I can access these on my phone anywhere.
Protect your "best" time of day for working – Morning are my best time, so that's when I do my crafting and blogging. After lunch I don't focus as well, so I do groceries or cleaning rather than work.
Be realistic with yourself – Everything takes time and you can't create more hours in your day. Be realistic about what you can finish and give up things to make time for what you really want to accomplish.
What are your goals for The Crafty Mummy? 
I'd love to create more tutorials for The Crafty Mummy. I'm a teacher at heart.
Before I had kids, I taught high school Japanese so now I feel like I'm an online teacher. It's great when readers make something from my instructions and share their accomplishments. The internet is an amazing place, and I still have to pinch myself sometimes when I think I can stay home and create things I love and call it work! How lucky am I!?
For more awesome crafting ideas, follow Tonya on Facebook, Pinterest, Google+ and Twitter.
PS We've got lots more articles on how to get/stay organized at home:
---