Newburyport, Massachusetts is an old town so there are hundreds of really old houses. Homeowners love their homes and accept the challenges that come with maintaining them. Many of the walls are original horse hair plaster, and they're difficult to finish during the prep phase of any painting project. That's why professional painters like Julie King, Samarra Faux Painting, recommends using a paint technique called color wash.
This article, co-authored with Julia, provides an overview of color wash so you can decide when it makes sense to use this approach to painting. We'll also give you an overview of the paints, tools and steps involved so you can decide if it's something you want to do yourself or better left to a professional painter.
When You Want to Use a Color Wash
There are many reasons why using a color wash is the best painting solution. As you can see above, color wash has a textured appearance so it's perfect for hiding flaws in your walls and furniture. Here are the most common reasons for using a color wash approach to painting:
Textured walls (see below) when you want something special but aren't sure a semi-gloss or high gloss finish will work.
Heavily damaged walls need fewer repairs when painted with a color wash.
High traffic areas in your home, like play spaces and children's bedrooms.
Bathroom colors to match the variation in tile colors.
Furniture that will get dirty fingerprints or banged up, making cleaning and repairs easier.
When you want a multi-dimension painting solution that goes beyond the capabilities of a traditional paint finishes.
Which Color Wash Technique to Use?
Painting is one of the most practical and popular home projects for homeowners who want to do it themselves. If you're comfortable with your painting skills there probably isn't any reason why you can't do some color washing yourself. That is if you also have the necessary skills to prep the walls because the devil is in the details. When homeowners don't like their painting results, it's likely because they didn't pay enough attention to prepping the walls … not the actual painting.
To help you decide on which approach is right for you, here are the resources I used to write this article. Julie reviewed the article for accuracy, although there are different opinions on almost everything. There are lots more videos on all sorts of painting techniques but color wash is where you want to get started.
If you're got problems that you've patched several times, like the rounded corners in my hundred year old Victorian, consider using trim to hide the problems.
So here are the tools and steps to follow when you decide to try color washing walls in your home.
Picking your colors can be tricky. Sometimes it makes sense to invest in a color consultation from a painter like Julie or an interior designer. You want to pick your colors carefully, as there's a lot more work (cost) if you have to redo the project. And yes, I remember auditioning four different blues for my living room and since then, I've used an interior designer for all my paint color picks.
Patch holes and cracks in your walls using a putty knife and spackling compound. Sand and prime these patches when dry.
Paint the base coat using a semi-gloss paint for it's reflective properties. Use your traditional rollers and brushes (see My Favorite Painting Tools).
Mix the second paint color with the glaze. The glaze slows the paint drying time and has a slight sheen, giving the paint more depth.
Brush the color onto the wall, making random "X strokes". Fight the urge to cover completely as that's the magic of color wash, so you want to leave a lot of the base color showing.
Without refilling your brush, drag the "dry brush" randomly across and over the paint you just applied.
Let the second paint color dry. Then repeat steps 4, 5 and 6 for the third paint color. Don't forget to get into the corners and straight edges where they meet the ceiling and baseboard trim.
Clean up isn't fun but … it is necessary, especially if you've invested in quality paint brushes. (Read: How to Clean Paint Brushes Like a Pro)
Julie's Inspiration, An Attic Bedroom in Newburyport MA
This article started with a text message from Julie. She was visiting a homeowner in Newburyport and the walls were in really bad condition. The walls would need a lot of prep work to smooth over poorly done repairs over the years … or she could color washing techniques to mask the problems.
The decision should be obvious and the homeowner was very happy with the results.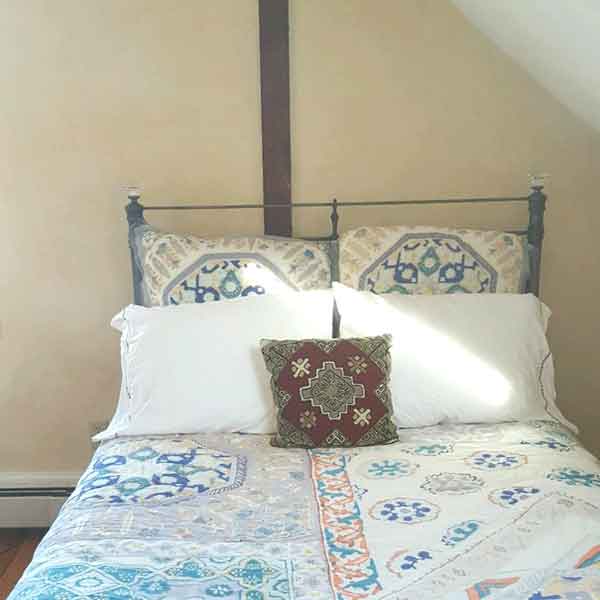 ---