Having the right fence around your house is important to many homeowners, for a variety of reasons. We've always enjoyed having a fenced in yard for our dogs, as there often isn't enough time to walk them when nature calls. So what other reasons are there for adding a fence to your property?
Safety for your kids and pets when outdoors.

Privacy when you're relaxing outdoors.

Improve your home's curb appeal.
Block noise from a busy street.
Need clear separation from your neighbors.
When you pick the right fence for your property, you will contain the little world that is your home inside tidy, and defined boundaries.
Simply put, with the right fence you're creating a wall around your property.
But not all fences work for all architectural styles. The utilitarian look of chain link would dampen the appeal of a small, charming little cottage. Likewise, a row of casual pickets would look out of place surrounding an urban home with industrial lines.
There are so many fence styles, it would be impossible to list them all in one place. But some trends, and some classics, are worth more than a passing glance.
Here are a few examples to spark your imagination:
The Right Fence When You Want Privacy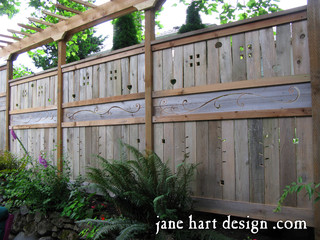 Privacy fences are practically a mainstay of suburban life, and suit nearly any architectural style. They offer complete or partial privacy, and are available as tall as 10 feet in some areas.
This type of fence is ideal for the backyard, but not necessarily the best idea for the front of your property. That is unless you want to block all views from the street, which is definitely a plus depending on where you live.
What's really interesting these days is the artistic twist being taken with some privacy fences. You can install a traditional wood or vinyl panel-style fence, but why not consider something really different?
Horizontal slats and carved panels are only two ideas. There's another making its rounds through social media with glass marble inserts. The home owner drilled holes through the fence panels, and inserted one marble in each hole. The sunlight makes the fence sparkle.
When Chain Link is the Right Fence, Dress It Up
Chain link fences are hard to beat where security is concerned. They can keep even the most determined watch dog safely on your property, and kids can play more safely inside the confines of the sturdy construction.
While chain link might be the right fence, it's now high on aesthetics. To the security you want and a yard that's pleasing to look at, we recommend dressing up the fencing! Climbing and blooming vines, such as clematis, climbing roses, wisteria, morning glories, and moon flowers can transform a plain fence into something beautiful.
Because the materials are so durable, you won't have to worry about whether the vines will weigh it down. The big plus here is the privacy and shade you'll gain, which is absent with a plain chain link fence.
Pickets Are a Good Option When You Want Charm
Picket fences require a certain type of home. The nature of these traditionally short, open fences is decidedly casual and even a bit country, so the home's architectural style must complement it. Otherwise, it will look out of place.
Victorian, craftsman, and Cape Cod cottages are ideal, as is nearly any farm house. Folk Victorian farm houses look especially lovely with pickets spanning the edge of the front yard.
If you have a garden, a picket fence creates a charming perimeter that enhances the green and growing things inside.
For Elegance & Security, the Right Fence Could Be Wrought Iron
Wrought iron fencing is available in numerous styles. Some are tall, others are short, and still others grace the tops of brick perimeter walls. This style of fence does two things very well: it safeguards your property, and it looks terrific doing it.
Nearly any older property looks perfect with one style of wrought iron or another. But with modern construction, you'll need a more modern-looking wrought iron fence with less fussy lines. Where an old, stately Victorian was practically born to host a traditional, fancy iron fence, transitional architecture looks better without the curls and points.
For every home, there's a complementary fence that will enhance the property. And if you have an unattractive, yet functional, fence already in place, you can make it look better by adding decorative touches or letting vines climb and cover it.
Choosing the right fence for your property take a bit of planning. Check your local zoning restrictions to find out which fences are allowed, and get a land survey to learn exactly where the property lines are before installing any fencing. If you're fencing in a swimming pool, expect to comply with strict code and insurance restrictions.
Please tell us which fence ideas you like best on Pinterest, so we can share them with others.