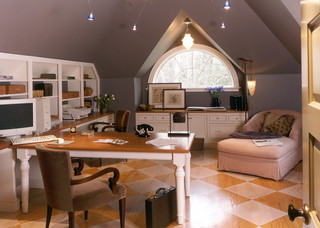 Attics may offer a lot more than you imagine. In a custom home, you can claim that space and use it before it's filled with old boxes, forgotten Christmas trees and clothes you haven't worn in 15 years. If your home is already built, you can still add attic built-ins with a full or partial attic remodeling project.
Generally, an attic requires some special attention before it's used for an office, extra bedroom or other living space. There are techniques for attic framing and insulation your builder can use that will make the space as comfortable as any other room in the house. In some cases, it's hard to imagine that a finished attic was ever an overlooked space at all.
One key to great attic conversions is built-in furnishings. By nature, attic built-ins can use less space, and fit neatly along the walls. Built-ins work well with the unusual ceiling slopes, the roofline, found in most attics.
When considering just what to do with your attic, think about these inspiring ideas and imagine what yours could be.
Beds as Attic Built-Ins are a Natural Fit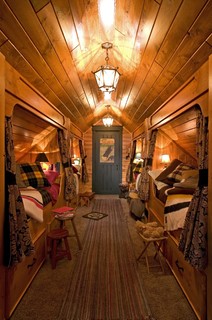 Beds naturally don't need a lot of headroom, unless you're prone to jumping on them but that's not good for the mattress. This makes a built-in sleeping area perfect for tucking along areas where the roofline creates short walls with limited headroom.
Beds don't have to look as rustic as this example (lots more examples on our Pinterest board). Nearly any design that you can dream up, an experienced and talented carpenter or handyman can create for you.
Keep standard mattress dimensions in mind, so the platform and bedding will match like they should.
Under-bed storage is also a good idea here. With a platform bed, the space underneath is otherwise hollow. You could even design a pull-out trundle bed underneath a primary bed for additional sleeping space.
Built-In Book Cases and a Reading Nook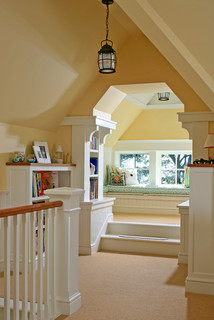 Not all homes have an overly large attic area. If yours doesn't, or if you want to reserve some of your attic space strictly for storage, you can still take some advantage of this space by creating a reading area with built in book cases and a window seat. Once you've added stairs, it will also make it easier to access your storage space.
The really wonderful thing about built-in book cases is that they can take any shape that you need. Book cases are typically 12 inches deep. Beyond that, they can be as wide or narrow, tall or short, slanted or straight as you like.
Working around the home's natural attic lighting or vents, such as these windows, gives natural light for reading in a sunny spot. A skylight would also be a great asset. At night, you can see the stars. In the daytime, you have the benefit of extra illumination.
An Attic Sitting Area is Perfect with Built-In Storage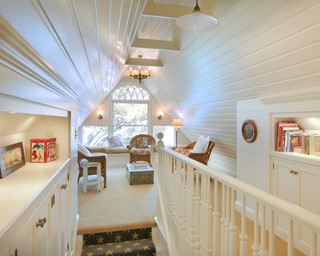 Large or small attics might be ideal for a secluded sitting area. Long, narrow spaces become quiet rooms to entertain, work on hobbies or study. With cabinets and shelves tucked back, there is headroom where you need it. By using smart seating arrangements, with chairs under sloped ceilings, headroom shouldn't be an issue.
Not all attics have abundant natural light. Painting hard surfaces white helps brighten a dark room, but perhaps your builder or carpenter can install windows or skylights to let the sun shine in.
Built-in storage in the attic is neat and out of sight, allowing you to use this space for multiple purposes. No one will ever be the wiser if your beautiful cabinets actually contain Halloween decorations, old ice skates and that special pair of jeans that you hope to wear again one day.
Unused attic spaces are lost square footage in many homes. They're sometimes spooky, sometimes dusty, and often overlooked in the overall floor plan. If you're building a new home, or picking a remodeling project to add more living space, think about the attic. It might not be large, or it might be just large enough to give you the extra space you want. Attic built-ins help you make the most of what you have.
What's in your attic?