There are many types of drywall so even when you think you know the type of drywall you need for a small repair, you'll probably guess wrong and have to make another trip to the store. This happened at my house recently.
My husband decided it was time to patch a hole in our dining room ceiling. The bathroom shower above had leaked, the plumber had fixed the leak and we waited to make sure it was really fixed.
This scenario illustrates that you need to find and fix the source of a problem first, the shower leak. Only then should you make repairs to the visible symptom, in this case, the dining room ceiling.
It wasn't until he brought the drywall home that he realized he bought 1/2 inch drywall but the ceiling was 5/8ths drywall! That's a common mistake when you don't know which of the many types of drywall you need for a job.
Drywall was a common discussion with my handyman customers. They didn't understand why we didn't arrive with the drywall needed for repairs. The answer is simple once you understand drywall. There are too many different types of drywall! It's also difficult to magically guess at how much drywall you need until you evaluate and measure the area to be repaired.
What is Drywall?
There are many types of drywall. They're all made by sandwiching gypsum between two sheets of heavy paper. It's the thickness of the gypsum, the paper on the outside and the chemical additives that make up the different types of drywall.
Invented in 1916 by the United States Gypsum Corporation, drywall didn't gain acceptance until the building boom after World War 2, when more than 21 million homes were built between 1046 and 1960.
The benefits of drywall, regardless of the type used, include:
Panels are readily available at most building supply stores in various lengths and thicknesses.
Drywall panels are easy to cut and install, and highly resistant to cracks when reinforced with tape and joint compound.
The gypsum core is non-combustible making it a good fire retardant. The panels are also provide more effective sound control than lighter materials like plywood.
Drywall is easy to paint and apply other decorating materials like crown molding.
Drywall has many names which adds to the confusion – plasterboard, gypsum board, wallboard and sheetrock. No wonder homeowners and contractors often find it difficult to discuss a project where terminology and concepts are unfamiliar.
When most people think of drywall, they probably picture the standard 4×8 panel that has been in use since drywall first became popular. But this is by no means the only size or type of drywall available today. Drywall comes in lengths up to 16 ft, and widths of 48-in (most common) and 54 inches, although the larger sizes might need to be ordered.
How Many Types of Drywall are There?
And once you've bought the right drywall, hung it on the walls/ceiling, you then have to apply multiple coats of joint compound (also called mudding) and that skill needs lots of practice to do well (read: Women Build at Habitat Lets You Learn How to Mud).
While they look the same when painted, it's important to be aware of the multiple types of drywall so you pick the right one at the store. Some drywall provides better protection in case of a fire while others reduce the risk of water damage in areas with high humidity.
You have choices in the wearability of your walls, along with the look and feel using different textures from orange peel and knockdown to Venetian plaster with a rock-hard, marble like finish.
So let's explore the most common types of drywall used in the construction of homes.
1. Regular Drywall
The most common type of drywall is regular, white (really gray) drywall. Regular drywall is used for most ceilings and walls in single family construction. These drywall sheets are most often 1/2 inch thick. They come in 4 x 8 foot sheets because most of our rooms are 8 feet tall. Drywall is also available in lengths up to 16 feet for commercial work which is helpful for a new trend where houses have higher ceilings
Don't panic about trying to get a sheet of 4 x 8 ft drywall home for small repairs. The box stores sell drywall in smaller, 2 x 2 foot squares. Just look for them and ask if they're not easy to find and if you need larger sizes, ask them to cut them too.
To tell the complete story, drywall also comes in 1/4 inch and 3/8 inch thicknesses. 1/4 inch drywall is most often used for curved walls and needs to be wet down to make it more flexible. The 3/8 inch drywall can be helpful when making repairs to old plaster and lath walls.
2. Moisture/Mold Resistant Drywall
Remember that drywall is a gypsum sandwich with paper on the outside. To make drywall more resistant to moisture, green board uses thicker paper that has been treated with wax for extra moisture resistance in bathrooms, kitchens and laundry rooms. This product is still being sold but there is a better choice if your primary goal is mold prevention.
A new mold resistant drywall uses fiberglass mesh instead of paper for the facing and backing. Mold needs moisture and a food source to grow, so replacing paper with fiberglass eliminates the paper food source. Because fiberglass is a non-organic material, mold has no food source necessary to colonize for it to colonize.
Where manufacturers once offered two different drywall products, this new drywall is being marketed as both moisture and mold resistant. But note that manufacturers don't guarantee their product is immune to mold, just resistant to it.
3. Drywall That is Fire Rated
Garages with gasoline in cars and furnaces in basements are highly flammable. That's why the walls and ceiling between your garage/basement and house are required by building code, to be fire rated. This allows more time for those in the house to escape.
Fire resistant drywall normally contains chopped fiberglass in its core for extra fire resistance. It's also 5/8 inch thick so it takes longer to burn through, 60 minutes versus 30 minutes for 1/2 inch drywall.
There are two types of drywall fire resistant boards, ype X and Type C. They are denser and contain glass fibers to give it more structural integrity (evaluation report documenting tests on Certainteed's Type-X drywall). -To be considered Type X, drywall must stand up for at least one hour of exposure to flames. Type C must meet this requirement and compensate for shrinkage during a fire required for some ceiling applications.
4. Plasterboard, Also Called Blue Board
Plasterboard is similar to drywall, designed as a base for plaster commonly found in older homes. It's much harder and thicker than drywall, with a highly absorptive face paper (typically blue) that's designed to accept plaster base and finish coats. Plasterboard provides a good sound barrier and reduces buckling and breaking.
Plasterboard replaced horsehair plaster walls. Now drywall is more popular because it's easier to install and repair, and less expensive. Unlike drywall where you apply several coats of joint compound to the seams, with blue board, you tape and plaster the joints and then cover the entire surface with 1 or 2 thin (1/8 inch) coats of plaster.
5. Abuse Resistant Drywall
Abuse resistant drywall is useful in areas where regular drywall can be easily damaged, like garages, mudrooms, workshops and other high-traffic areas. This impact resistance is accomplished through higher wallboard density plus fiber mesh that's embedded in the backside of the wallboard to resist cracking and warping.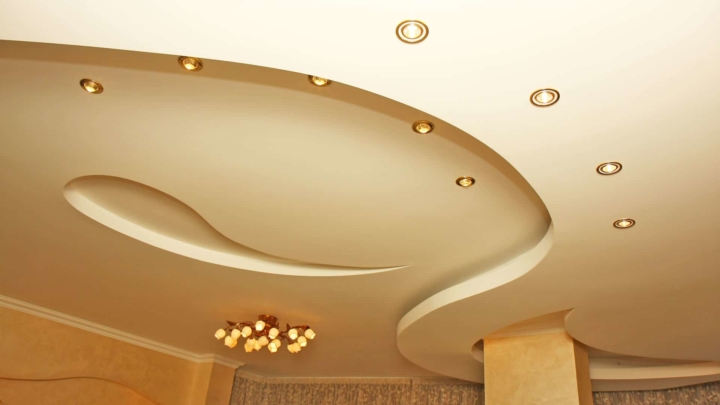 6. Flexible Drywall
Before you think all types of drywall are rigid, let's talk about flexible drywall made for curved walls, archways and ceilings. It's has a heavier face paper and stronger liner paper than regular 1/4 inch drywall. This makes it easier to bend and resist cracking due to structural changes. What's interesting is that it's usually installed in double layers, with staggered seams, for more strength.
What I also found was this new slotted plasterboard for curved shapes you want to use.
7. Lightweight Drywall
Lightweight drywall is used for ceilings to prevent sagging, especially when a heavy ceiling texture is being applied. It has more strength than standard drywall using a reinforced gypsum core. Another good use is 24 inch on center wall studs rather than standard 16 inch framing.
The savings in weight is substantial. This is significant for professional drywall installers handling 60 boards a day. Homeowners will also benefit from the lighter panels
| | | |
| --- | --- | --- |
| Type | 1/2 Inches Thick | 5/8 Inches Thick |
| Standard | 1.6 lbs / sf | 2.31 lbs / sf |
| Lightweight | 1.2 lbs / sf | 1.65 lbs / sf |
8. Foil-Backed Drywall
Foil-backed (yes, it's aluminum foil) drywall can be used over wood and metal framing and furred masonry to create a vapor barrier and enhance the insulating value of the drywall. It should not be used as a base for tile or moisture resistant wall coverings because it will absorb and trap moisture that could damage the drywall.
This type of drywall is recommended for use on the interior face of exterior walls and ceilings in new construction and remodeling with furred masonry, wood or steel framing. However, from what I saw on discussion forums, there isn't a lot of acceptance of this new product.
9. VOC Absorbing Drywall
With so many different types of drywall, it's nice to see a new drywall product that's absolutely fascinating. It illustrates how building products are evolving to deliver more value to homeowners. Drywall has been around for more than one hundred years and improvements have focused on making drywall more resistant to moisture, to mold and now … to the volatile organic compounds (VOCs) we seem to collect in our homes.
Where do these VOCs come from? Some building materials like paint, unsealed plywood, particle board and insulation have VOCs. But homeowners also introduce VOCs with cleaning materials, hairsprays, furniture and carpeting.
Certaintee's AirRenew drywall product takes these VOCs out of the air permanently. It basically captures VOCs and converts them into harmless inert compounds which remain trapped within the drywall … which I think is pretty amazing.
Here are some other things you might want to know about this drywall:
Remains effective even after the drywall is painted or covered with breathable wallpaper.
Testing indicates it will continue working for up to 75 years .
Can be recycled the same way as standard gypsum board, meaning it can go into landfills.
If you want more information, simply search online for "Certainteed AirRenew" as this PDF might be out of date in a year.
Last and very important for do-it-yourself homeowners, check local building codes to make sure you use the correct types of drywall! Talk to your contractors and make sure they consider garage walls and basement ceilings as I caught my handyman technicians forgetting about firewall requirements.
Original article published in July 2012. Last updated October 2020 and drywall is evolving!
---