Color affects our lives from how we feel to the decisions we make. So decorating with color means picking the right colors for your home and personal style, and taking the time to get it right. That means auditioning colors to see how they'll look throughout the day because colors change with variations in natural sunlight and/or artificial lighting at night.
Too often people think they can only pick one color for a room but look around you. You'll see that most rooms have multiple colors. Sometimes the color might be the same with variations from dark to light. Other times colors will be adjacent on the color wheel or direct opposites. And never assume an entire wall has to be one color as the horizontal stripes above illustrate.
As a quilter I've used bold colors forever, as you can tell by my office below. You might call my choice of colors eclectic as I often line my bookshelves with bold colored fabrics which I get away with as the shelves offer separation.
A new decorating trend is to pick bold colors versus the neutral colors we've been using for years. As we spend more time at home, it's even more important that your decorating and the colors you pick fit your personal style. After all, you will spend more time in your home so it should reflect you … and makes you happy. That means you don't want to get caught up trying to replicate the perfect room in a magazine or online because it's not you!
What's exciting is that decorating with color isn't limited to a single room or merely painting the walls. There are an endless number of ways to introduce color into your home. So in this article, we'll explore how decorating with color is changing our homes.
Decorating with Color – Walls are #1
For years the walls of our houses have been bland, more functional than decorative. We've used paint colors to add some spice but most often, walls have been painted a solid color to provide a foundation or backdrop for everything else in the room.
We're starting to break out of this mold with multiple colors like the stucco house above, in Tucson, AZ. Another approach to mixing multiple colors on a single wall is to use a faux painting finish, with overlapping colors like the home office by Julie King, a friend and professional painter in Newburyport, MA.
Horizontal and vertical strips are all the rage today, and easy to do with painter's tape.
Wallpaper is making a comeback with bold graphics, geometrics and murals.
Gray Grand Trellis Peel & Stick Wallpaper

Print Embossed Non-Woven 3D Home Decor Wallpaper

Gray Woods Peel and Stick Wallpaper

And for those unsure how much color they want, wall artwork can provide your color.
Window Treatments Can Add Lots of Color
Notice how curtains are taller now, reaching up to the ceiling and down to the floor, and
puddled curtains
at the bottom.
Sometimes it makes more sense to add a splash of color to a room using curtains or other window treatments. Curtains provide lots of flexibility decorating with color. You'll find them in colors that compliment the wall color and sometimes they provide a nice contrast. Some window treatments offer color while others add a decorative touch:
Geometric curtains may coordinate with accessory pillows.
Curtains with vertical/horizontal stripes often coordinate with bedding.
Sometimes curtains can offer color while letting sunlight shine through.
Floors Can Also Help Decorate With Color
You might not be able to change your flooring but that doesn't mean you have to live with boring floors. Area rugs provide another great way to introduce color. Where in the past, rugs have followed the trend towards neutral colors … they are lots more bold options. Just remember that when you decide to change the rooms color scheme, you might have to buy a new rug.
In fact you might rethink rugs to be another piece of artwork that you move from one room to another (called re-decorating), just like you do with art you put on the walls of your home. Here's my coffee table on a neutral rug in a room with a blue accent wall. Contrast the look with the same table over an orange, geometric rug and neutral walls.
… and notice how many include a geometric pattern (mine is the first one)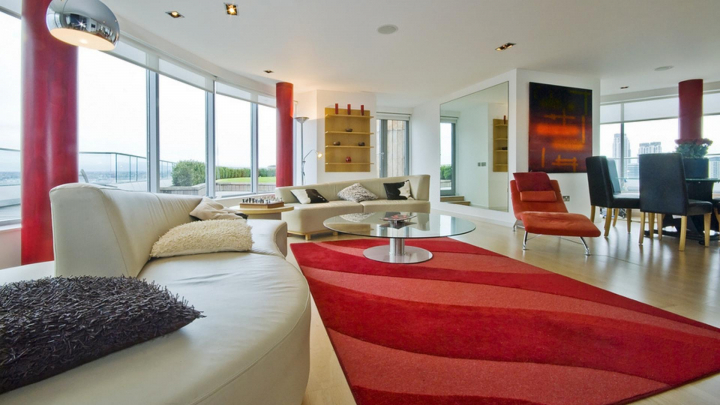 There's something else you can put on the floor when you don't have enough wall space. Sculptures you're used to seeing in museums also work in a house. This one was tucked under the stairs in this year's New American Home.
The Color Scheme Bible: Inspirational Palettes

Color + Design: Transforming Interior Space

Color in Interior Design
for Every Home

Adding Color with House Features & Furniture
We're used to bold colors in furniture, like the orange chairs above. We're surprised still, to see home features like appliances, cabinets and even sinks and faucets, providing an explosion of color in our houses.
When you pick bold house features, remember you'll need to live with them for a number of years given their cost … unless you have a unlimited budget which definitely isn't me. So start out with a bold backsplash or faucet that adds sparkle to your house without breaking your budget.
Here's my bold blue backsplash, an amazing piece of quartz that brightened up my new kitchen … and still trying to decide how to dress up the opposite wall on the left, LOL.
You might not realize how many different colors appliances come in these days. For a number of years now, you could buy old fashion appliances in colors that were popular in the … 1950s? Then higher end appliance brands started offering products in bold new colors like the bold blue below. Now if you google appliance colors, here's what you're likely to find … pretty amazing!
While it would be fun to change room colors every couple of years, your budget probably requires you to think through how often you can change things. Consider how long you can expect things to last when picking bold colors for your home.
Paint colors in a room – last until you want to change colors.
Kitchen appliances – range from 5 to 20 years.
Kitchen cabinets – should last 20 to 50 years depending on the quality of the materials and construction.
Kitchen backsplash – will likely be there until you or the next homeowner remodel.
Furniture and window treatments – most often live until you tire of them, or with kids, they need replacing from extreme use.
Love the look of painted cabinets, and it's now okay to mix and match so you can start with some cabinets green and paint the rest once you're comfortable with your color choice.
Yummy and almost good enough to eat!
Yesterday's rules for decorating with color are out. It's time to bring more brilliant and bold colors into your home. While painting may remain your color choice because it's a relatively inexpensive, we hope you've discovered some new ideas for adding more color to your home.
How are you planning to improve your home this year?
---