Master bathrooms certainly have changed since the days of pull-chain toilets or Mamie Pink tile. It seems that every new decade brings new trends and ideas that catch on, and some others that fade away just as quickly as they emerged.
Is your bath laboring under the decorative ideas of another era? Or is it new but plain, and in need of something special? Either way, there are some elements trending lately that seem to have a bit of staying power. They're functional, attractive, and won't cost as much as a full bath renovation. (Read: What's a Bathroom for, Anyways?)
Here are 4 ideas that you could incorporate into your own home:
Your Master Bathroom Needs a Bigger Shower
Everyone remembers the 80s and 90s when garden tubs were all the rage. While soaking in a tub will likely never go out of fashion, oversize bathtubs are waning. What's taking their place? Oversize showers, of course, according to HGTV . 
Walk-in showers are handy, easy to care for, and the spacious feeling is as luxurious as any garden tub. Designed well, you don't even need a shower curtain or doors. Some have tiled walls, and some have walls of glass. If you want the light but don't want the transparency, opt for frosted glass instead of clear.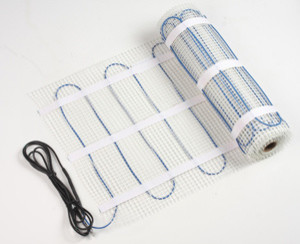 Heated Floors in Your Bath Make an Enormous Difference
A heated floor might seem like a lot of things, including an unnecessary luxury. But once you learn a little more about them, you might change your mind. Radiant, in-floor heating is achieved by way of a roll-out mat or panels that go under your flooring. They're electric, but the electric draw is minimal — much less than a space heater.
The cost of in-floor heat for your master bathroom might be the most surprising feature of all. It doesn't cost thousands. Ten square feet costs less than $200, and it installs quickly and easily. Many home owners find that a strip of panels under tiles down the center of the room is all that's necessary for a comfortable floor.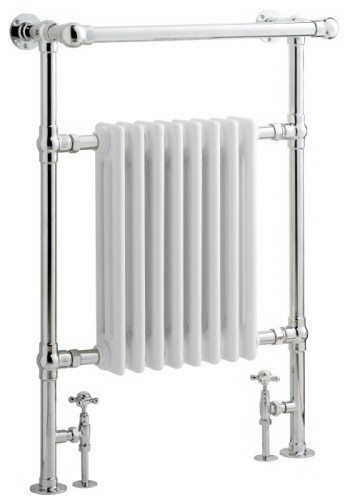 A Towel Warmer Makes a Custom Bathroom Luxurious
Is a towel warmer in your master bathroom really that important? If you've never had the pleasure of stepping out of the shower or bath and grabbing a heated towel, you might not think so. But once you try it, you may wonder how you ever lived without one.
Heated towel warmers come in two basic styles. There's the radiator style, which combines a traditional radiator with a towel warmer, and there's the standalone style that's usually electric. The radiator style ties into a home's existing radiator system, while a standalone towel warmer can be wired in and mounted anywhere you like.
Windows Reduce the Need for Lighting in the Bath
Light can be a real luxury, but artificial lighting isn't the best way to get it. Add more windows to your master bathroom, and you'll enjoy an easier go of getting ready in the morning without the glare of harsh lights.
Windows brighten any space, and that's an especially good thing in the winter months. If you've got a great view, go for clear windows to really enhance your bath. If you have neighbors, frosted glass gives you nearly as much light while retaining your privacy. 
There was a time when bathrooms were nothing more than a necessary place in the home. Decorative options for traditional fixtures, such as pink bathtubs, evolve with the decades, but they also go out of fashion.
Perking up your master bathroom with beautiful and useful improvements adds value to your home, and they'll give you enjoyment for many years to come. (Read: Latest Bathroom Trends to Relax and Enjoy)
If you could choose one luxury item for your master bath, which one would it be? We'd love to hear how you view luxury!