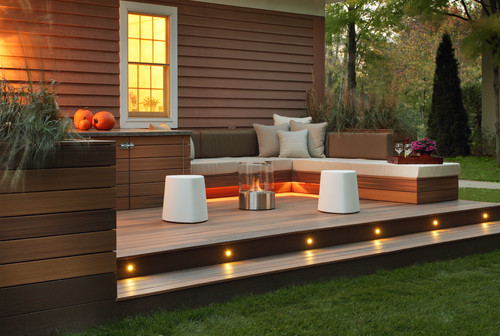 Homeowners give a lot more thought to the lighting inside their homes, and only recently has the combination of solar and LED lights led to so many decorative lighting options.
That's where homeowners can get help from lighting professionals at the Association of Lighting Professionals (AOLP). Members are contractors, manufacturers, lighting designers, landscape architects and distributors involved in all aspects of exterior lighting across the U.S. and Canada.
AOLP offers their lighting professionals the opportunity to earn certification. They also hold an annual conference where lighting professionals can get more education, along with information about new products.
When Homeowners Should Consider Hiring Lighting Professionals
You might be happy with your home's outside appearance, and you might not. There are lighting professionals who can assist you with:
Architectural lighting design – to illuminate your house with an emphasis on it's unique design elements. To do this, lighting designers must understand the physics of light production and distribution, along with the psychology of light perception by humans. They must also take into consideration operating costs and energy efficiency.
Landscape lighting design – is one aspect of landscape architecture, requiring landscape architects to know how to light trees, planting beds, garden walls, architectural home details and where appropriate, recommend lighting focal points.
Curious as to what the new outdoor lights look like? Here are just a few lights that we found on Amazon if you want to experiment with more outdoor lighting. These are affiliate links meaning we'll earn a small commission if you purchase any of these products (learn more about how we earn money for the time we spend building this website).
Outdoor Solar String Lights (20 ft)

Glow Ball Light (8 in, battery)

LED Meteor Shower Rain Lights

Solar Motion Sensor Security Lights

Need help finding lighting professionals or another type of contractor for your next home project?