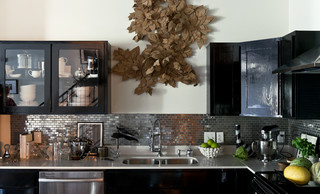 A lot of kitchen remodeling ideas need careful consideration. But sometimes more attention is given to features such as cupboards, floors, and countertops, while the backsplash is almost an afterthought. It doesn't have to be that way.
The backsplash can be an extension of the countertop if you wish, but it's a small enough area to add some creativity. Traditional tiles are common, and common is not what we're talking about today.
This is about inspiration, and backsplashes that are an expression of your home's style and your personality too.
Kitchen Remodeling Ideas Using Stainless Steel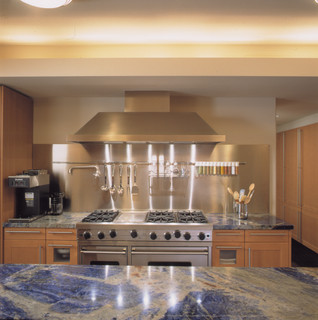 Stainless steel combines a clean, utilitarian appearance with ease of cleaning. It's one of the most sensible, long-lasting of all kitchen remodeling ideas.
A stainless backsplash can be installed in sheets, which means seams are minimal. You'll have fewer places where kitchen grime collects, so cleanup doesn't have to be a chore. They can be bonded to the wall using an adhesive, or fastened using screws.
Stainless is also available in tiles. This is a newer look that combines the shine of metal with the visual interest and texture of tile. They're available in rectangles, circles, squares, and other geometric patterns, and are installed the same as any other tile.
One issue with stainless tiles is that they are hollow, not solid. They'll sink down into the mortar a bit, but are more prone to dents than stainless sheets that are mounted flush against the wall.
Glass Offers Many Kitchen Remodeling Ideas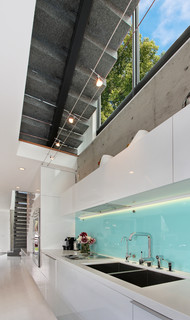 A glass backsplash lets you have almost any look you want. Glass is cut to fit and installed in large sheets, so it can be virtually seamless. Tempered glass is safer, since accidental breakage won't leave shards.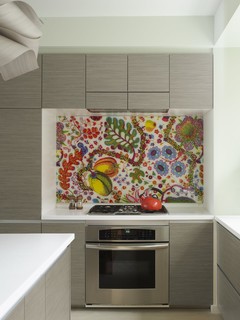 Paint the backsplash area a vibrant accent color and cover it with glass, and the paint won't wear off no matter how often you clean. Glue beautiful textiles, from cotton fabric, burlap, or even an extraordinary tapestry, to the wall, and the glass overlay will protect it indefinitely. Some installers also offer glass that's painted on the back side.
Lighting is another way to enhance the look of a glass backsplash. Some installers can add back lights, making the glass glow from within, and under-cabinet lights can illuminate the back splash from above.
Pressed Tin For Old-Fashioned Kitchen Charm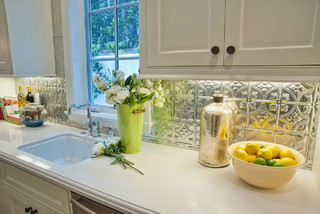 They're not for everyone, but old-fashioned pressed tin tiles, often found on ceilings of older homes, have the shine and texture to bring a back splash to life. What you might not know is that some plastic tiles are nearly identical to tin, and you can install them yourself using adhesive, staples or tacks, and trim.
Pressed tiles are also available in copper (see the range of colors and textures at The American Tin Ceiling Company). And with plastics, you can get an even wider range of looks, from bright and shiny faux metal to aged faux metal that has a warmer patina.
The texture that makes pressed metal and plastic tiles charming can be a problem. They're difficult to clean and seams can collect grease or allow water to seep behind. There are also more seams since each tile is separate.
Kitchen Remodeling Ideas Using Mosaics for Your Backsplash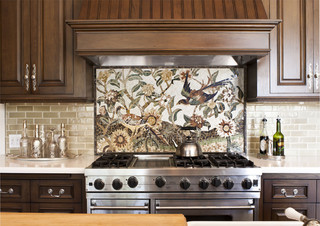 Small, broken bites of tile in an array of colors can transform your backsplash from plain to a work of art. Some mosaics are created as an abstract mishmash of colors, while others become images like palm trees, words, animals, or anything else you like.
Some mosaics are available in pre-made patterns. They're mounted on mesh sheets, which means the whole design is pressed into the mortar at once. For larger designs, there may be two or more sheets that fit side-by-side.
Mosaics can be hard to clean because the grout lines are as prominent as the tile pieces. To help make cleaning easier, seal the grout after installation, and seal it again periodically. Once kitchen grease seeps into porous grout, you may never get it out again.
The back splash is one place where you can think about unusual kitchen remodeling ideas without breaking the bank. Where countertops should be durable, the back splash is smaller and doesn't suffer the same abuse.
Have you recently installed a new back splash, or are you thinking about one in the near future? Please share your ideas, so we can all benefit from your creativity!