When you think about bathrooms, what do you think of? What kind of bathroom ideas were you searching for when you found this article
Most people probably think about bathing, getting dressed for the day (morning showers) or a relaxing bubble bath at the end of a long day. What's important to recognize is our bathrooms should support how we live, which is far more important than having a beautiful bathroom. And we might need some bathroom ideas to make the time we spend in the bathroom more fun!
So this article isn't about creating a beautiful bathroom, it's about having fun in the bathroom!
Fun Bathroom Ideas For Everyone
Do you struggle to spend one-on-time with your kids? Once everyone gets home, you're juggling dinner prep, homework, laundry and don't forget the time we spend running our kids to and from sports and other activities.
One of my treasured memories with my younger son was practicing his multiplication tables … in the bathtub. It's been years so I can't remember where the idea came from, but I know it's one I'll never forget as it was probably the most fun I had helping Ryan learn his multiplication tables. So what exactly did we do?
Ryan loves water, swimming on a team from age 7 through 8th grade when we moved.
Maybe it was his love of water, that made something he didn't like more fun … or the one-on-one time with Mom?
Mom sat on the toilet and bounced a ball, from the floor into the bathtub
… and as I bounced the ball, I called out one of the 100 entries in your basic multiplication table, like 6 times 8?
Ryan first had to catch the ball, and then give me the answer to the multiplication question.
We kept count of how many multiplications he got right, and maybe there was a prize but I don't remember … but we had lots of fun and still talk about these days occasionally. 
So you might not associate having fun with bathrooms, so I decided to find other ideas to share with you. 
Painting the Bathtub
Have you got a budding artist, or maybe a sick child who needs to be entertained? That's how Megan Dischinger (Team Dischinger) came up with her bathtub paint, and kept her sick child occupied. To get the recipe for this cornstarch based paint, just click over to Megan's blog. Also in the comments section, someone mentioned you can also use shaving cream and food coloring, for an easier recipe … and whatever you use, everyone recommends cleaning off the paint right away.    
Making Learning Responsibility Fun with This Bathroom Idea
The bathroom offers a relatively small and contained place, so it's easier to see everything that's out of place and needs to be put away. As kids love the cool bathtub toys we have today, why not make a game of putting them away in brightly colored tubs that are kid size … and depending on the size of your shared bathroom, you can organize things to burn up some energy too. For example, a small basketball hoop to throw the balls below into their storage basket would be perfect.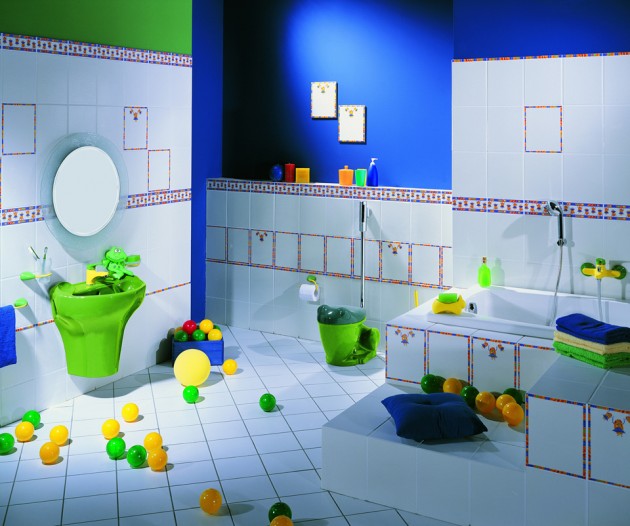 Indoor Gardening You Will Enjoy Every Day
Gardens are wonderful but they can take a lot of work. When we're busy juggling too many roles, our gardens don't always get the attention they need so why not try a low maintenance garden, one you won't forget when you see it every day in your bathroom. While I didn't find details on where you can buy or build this bathmat, Martha Steward suggests "… putting a layer of crushed stone or gravel in the bottom of a vessel for drainage. (Wide, shallow containers look best.) Top that with a layer of potting soil, and then add moss, stones, and plants in any arrangement that strikes your fancy."
We hope you're thinking about you'll now consider how you use (or want to use) your bathroom when you plan any changes. Bathrooms are to be used, not admired and we hope you find the time you spend in your bathroom more rewarding because of the bathroom ideas we've shared here.